Spiralized Cucumber Thai Salad
Over the past couple years, my husband and I have been trying to taste food "from all over the world." We have come to find we love Thai and Indian food! It is interesting to taste different foods from different cultures and countries, along with picturing being a part of the world as you eat their food.
As a dietitian, I talk to many clients from different backgrounds. I am always interested in their meal choices and different food traditions they may have. Sometimes I want to invite myself over for dinner, but that wouldn't be very polite! Honestly, I would love to step in the life of other cultures and see how life and dietary habits they have. Can someone take me to Thailand please!!!!??
I love that America is the melting pot and we have so many cultures around us. My husband and I live close to Philadelphia and two hours from New York City, where so many people from all backgrounds usually come. With many backgrounds equals different types of food, which we are blessed to try.
Thai cuisine is about the spiciness and balancing flavors: sour, sweet, bitter, salty, and spicy. Some staples in Thai food include: rice, noodles, herbs, fish, Pad Thai, curry dishes, vegetables, fruit, and much more. When I go out to restaurants and they have an Americanized Thai dish, it usually is a peanut sauce. I am not sure if this is popular in Thailand. I decided to create a peanut sauce with a ton of veggies and it was delicious!
Spiralized Cucumber Thai Salad
Directions:
In large bowl, mix all salad ingredients together, instead of peanuts.

In a small bowl, mix peanut sauce ingredients together.

Mix salad and sauce, top with peanuts and serve immediately.

Enjoy!
Serves: 4
Ingredients for salad:
1.5 large cucumbers, spiralized

1/4 cup red pepper, thinly sliced

1/2 cup red cabbage, thinly sliced

1/2 large carrot, thinly sliced

1 green onion, chopped

1/2 cup edamame

1 tbsp peanuts (for topping)
Ingredients for peanut sauce:
1/4 cup natural peanut butter

2 tbsp low sodium soy sauce

1.5 tbsp sesame oil

1/2 lime juice and zest

1/2 tsp grated ginger

1 tbsp honey

1 garlic clove, minced

1 tbsp sriracha sauce (or hot sauce)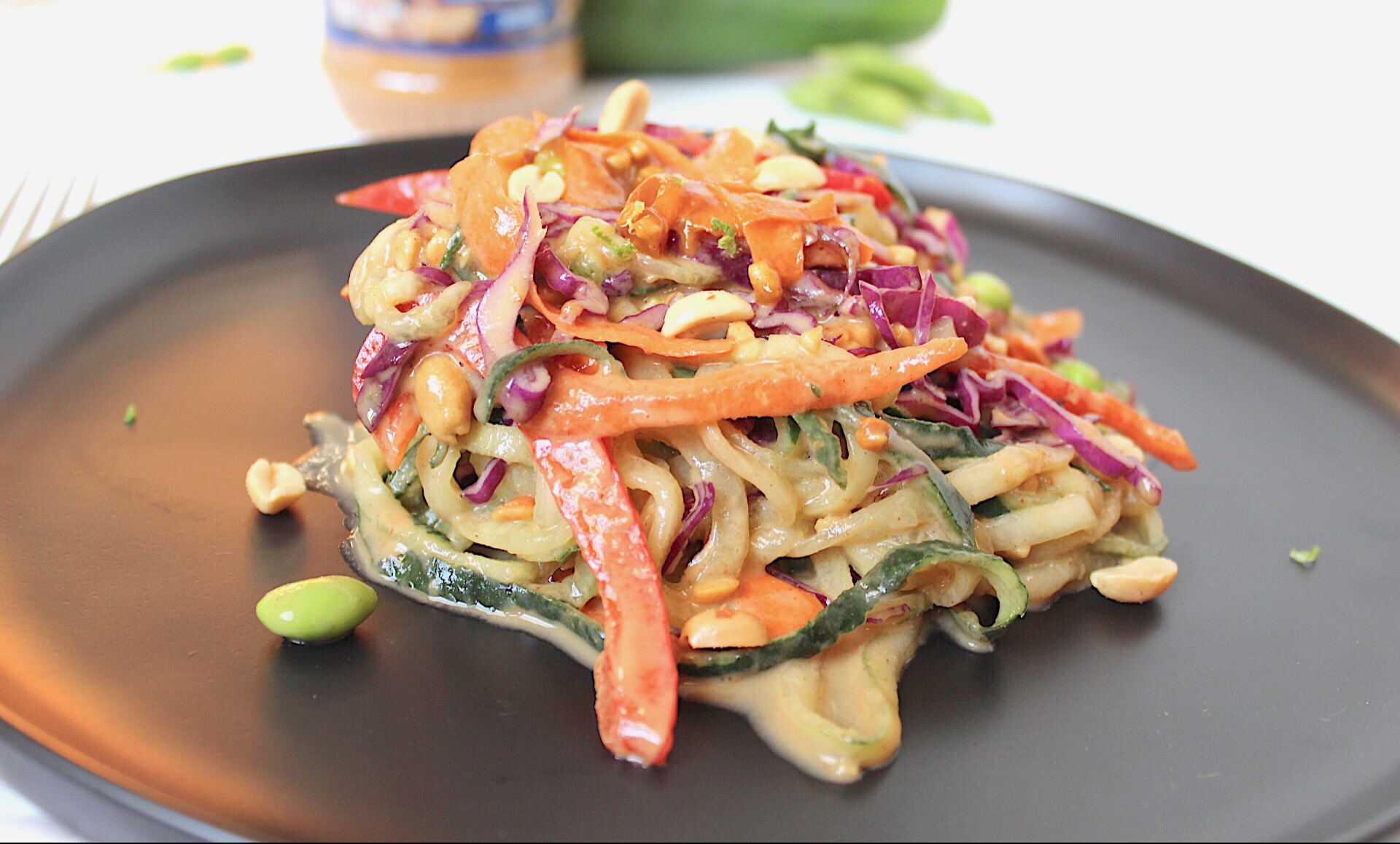 Cucumber Nutrition Tips
1 cup=15 cal

Filled with water to help hydrate you (95% water)!

High in vit K: for bone health and blood clotting

High in mineral molybdenum: depends on the soil it is grown in; cofactor for the enzyme ADH-important in the nervous system

High in pantothenic acid (Vit B5): important for energy metabolism from it's role in CoA

Phytonutrients: flavonoids, lignans, terpenoids, fisetin: anti-inflammatory & antioxidant benefits, inhibit some cancer activity and neurological diseases

Supports blood sugar regulation

Heart healthy: helps lower total cholesterol